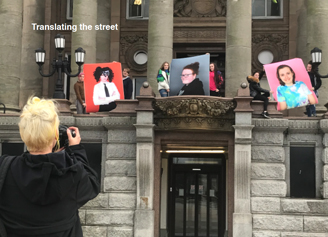 Click above for 2019 catalogue PDF
In 2012 I took over one of the three remaining buildings on Balls Road East in Birkenhead. The linked buildings that flank the left-hand side as you come up from Borough Road were originally built in 1900 to house the Disbury Bakery and shop. The buildings are now occupied by a wood stripper, a picture framer and gallery, an office-based business and Alternator Studio.

Alternator Studio sits at the junction with Oxton Road on which I discovered a diverse range of independent businesses, some of which became my regular haunts. These businesses serve a culturally diverse community, not only in relation to ethnicity, but also in relation to professions and pastimes. But how to unlock this treasure-trove of stories, cultures and customs? Each door could open the hidden worlds of shelves, boxes, clients and shopkeepers. The idea for micro-residencies was thus born! Just like the dough rising in the grand bakery, the Studio once again is used to transform the small into the substantial. International artists have been invited to translate the stories of the street, build bridges and make visible the hitherto hidden.

In 2016 Translating the street welcomed artists Harold Offeh, Haleh Jamali and Jeff Young to live and work in Birkenhead and to listen to the stories unfolding in three iconic businesses, working with Christine Lucas (All Nations 4 Hair), Karim Azare and Kazem Kohnechi (K&K Fresh Vegetables and Fruits) and Frank Cavanagh Shoe Repairs, see here for documentation.

In 2019 Translating the street welcomed artists Chris Dobrowolski, Kwong Lee and Casey Orr to Birkenhead to undertake residencies with Kitstop Model Shop, Birkenhead Central Library and The Wirral Hive Youth Zone respectively.